15 sqm LED screen on trailer. 4.8 mm pixel pitch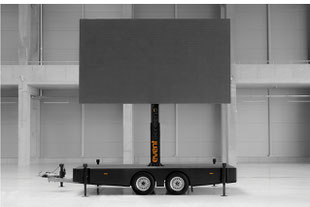 Size: 3 m x 5 m = 15 m²
Height: 4.99 m
Pixel pitch: 4.8 mm
Rotatable: 360°
Minimum viewing distance: > 5 m
Power connection: 32A CEE
Viewers: < 5000
Signal inputs: (HDMI, SDI, VGA, DVI, Analogue)
Satellite system for transmission
Sound system can be booked on request
Set-up time: approx. 30 min
This mobile LED trailer is suitable for use at city festivals, sports events, summer cinemas and as an advertising space or to display warning or hygiene notices.

But maybe you just want to watch football with your guests.
With a short set-up time of about 30 min. and an extra power supply, this system can be used almost anywhere. The display is high resolution, suitable for daylight and weatherproof.
Delivery possible throughout Europe.

With us you can easily rent an LED display for your event. You tell us the data via our contact form, we make you a rental offer, and if it suits you, we come to you, set up the screen and give you a comprehensive briefing. We'll leave adequate spares for you in case of unexpected failures, and we're available to you by phone and respond quickly to emails and texts. After your event, we'll come back and carry out an acceptance test. Should anything be damaged during the event, we will settle the matter with the insurance company.
Compare us with your local partners and ask us for an advantageous offer!
Make a request